No Strings Attached Giveaway Hop - April 17 - April 22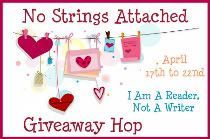 I'm giving away an e-copy of HORSE CHARMER or SPECTORS to one lucky winner. The winner will receive an Amazon or Smashwords e-certificate for the book of their choice (SPECTORS is only available through Amazon). You can enter the giveaway until April 22. Simply leave a blog comment below with a way to contact you and what book you would like. The winner will be announced on April 24.
HORSE CHARMER - A young adult fantasy about a sheltered princess who discovers her special gift with horses while on a quest to find her father's murderer.
SPECTORS - A space opera about a space pirate who's blackmailed by the military into running a dangerous mission.
You can find lots of other great prizes and giveaways here: